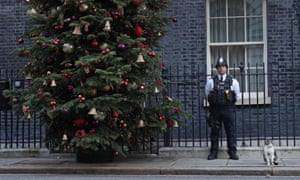 Good morning, and welcome to our rolling coverage of the world economy, the financial markets, the eurozone and business.
The markets are looking edgy this morning, as Brexit talks head down to the wire and the Covid-19 pandemic continues to rage.
After a volatile Monday, the pound is dipping against the US dollar and the euro in early trading as investors brace for showdown talks between Boris Johnson and European commission president Ursula von der Leyen later this week.
Yesterday, sterling was on track for its worst day in three months — slumping by two cents against the dollar — before rebounding after Johnson and von der Leyen agreed to hold personal talks in Brussels.
But fears of a no-deal Brexit are still lingering, foglike, in the City. The two sides seem to still be deadlocked over three key issues — the 'level playing field', governance of the deal, and fishing rights.
So the pound is taking the brunt of the uncertainty, dipping by half a cent this morning to $1.333 [having hit a 30-month high over $1.35 last week]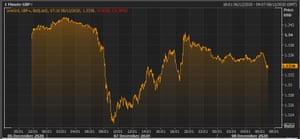 Jim Reid of Deutsche Bank says a "high-stakes game" is continuing, with sterling the asset class most affected by the Brexit headlines:
Though an in-person meeting was taken by some as a positive sign, along with the fact the two sides are still talking, a UK government source said to journalists that ""Whilst we do not consider this process to be closed, things are looking very tricky and there's every chance we are not going to get there."
Kyle Rodda, market analyst at IG, adds:
Of course, the Brexit soap opera remains a key talking point, though still, little reliable or substantial information about the negotiations has been released.

UK Prime Minister Boris is on his way to Brussels for talks with his counterpart Ursula Von Der Leyen, with the market likely to remain jumpy going into tonight's trade as market participants await a definitive answer on the trade pact.
The latest Covid-19 news is also weighing on the markets, with Hong Kong tightening its social distancing rules and banning evening dining at restaurants.
The sharp surge in Covid-19 cases and deaths in America is also worrying investors, with most of California now under a strict new lockdown.
New infections are running at around 200,000 every single day, and US diseases expert Dr Anthony Fauci has warned there could be another surge in Covid cases after Christmas.
The news that the Trump administration passed up a chance last summer to buy millions of additional doses of Pfizer's coronavirus vaccine could also weigh on Wall Street's spirits, as it may mean longer delays to get America vaccinated.
The agenda
10am GMT: ZEW index of German and eurozone economic confidence
11am GMT: NFIB survey of US business optimism