Lap 5/44 Gasly is flying through the field. The Frenchman is up to eighth, after starting 12th on the grid.
Lap 4/44 Verstappen is dropping back from Bottas in second, but opening a gap to Ricciardo in fourth.
Updated
at 9.23am EDT
Lap 3/44 It was a decent start for Ferrari. Leclerc is up to ninth from 13th, while Vettel is up one place to 13th.
Lap 2/44 Perez is fighting back to overtake Gasly with Norris hot on their heels in the scrap for ninth. Bottas is already over a second behind the leader Hamilton.
Lap 1/44 The Mercedes are one and two, Leclerc is up four places in to ninth. Gasly and Magnussen also big moves on the opening lap.
Lights out
Hamilton flies away from the start but Verstappen is pressurising Bottas with Ricciardo close behind in fourth.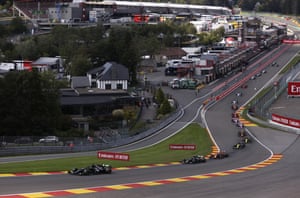 Updated
at 9.22am EDT
Carlos Sainz explains what happened to his car. "I started smelling something not quite right and started hearing the exhaust had broken," the McLaren driver says. "I went into the pits and heard it's a fuel issue that generated a problem in the exhaust. Im not happy."
There will be 44 laps of the 7.004km Circuit de Spa-Francorchamps today, and the start could prove vital. The expectation is that if Hamilton leads out of turn one he'll win the race, but drama is common off the grid here. Race seven of this shortened 17-race season is almost upon us.
A reminder of the standings in the drivers' championship as we move towards lights out …
1 Lewis Hamilton (Mercedes) 132 points
2 Max Verstappen (Red Bull) 95
3 Valtteri Bottas (Mercedes) 89
4 Charles Leclerc (Ferrari) 45
5 Lance Stroll (Racing Point) 40
6 Alexander Albon (Red Bull) 40
7 Lando Norris (McLaren) 39
8 Sergio Perez (Racing Point) 32
9 Carlos Sainz (McLaren) 23
10 Daniel Ricciardo (Renault) 20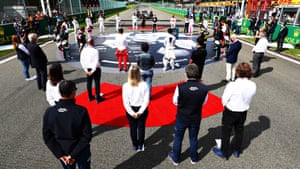 Updated
at 9.05am EDT
There will be a minute's silence before today's race in memory of Anthoine Hubert. The young Frenchman died in a Formula 2 crash at Spa-Francorchamps a year ago tomorrow. Pierre Gasly is wearing a "special helmet for a special friend", he said two days ago, and he just posted this …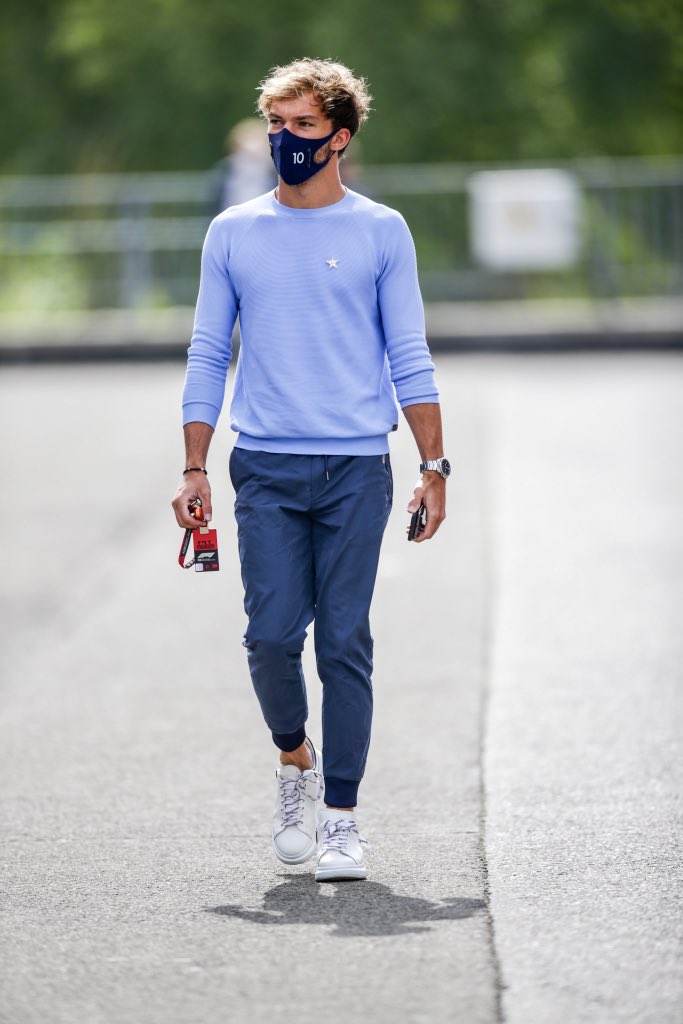 Max Verstappen will start third on the grid, behind the two Mercedes, while the Daniel Ricciardo and Esteban Ocon have looked impressive so far this weekend for Renault. Here's the full starting grid.
1. Lewis Hamilton – Mercedes – 1m41.252
2. Valtteri Bottas – Mercedes – +0.511s
3. Max Verstappen – Red Bull – +0.526s
4. Daniel Ricciardo – Renault – +0.809s
5. Alex Albon – Red Bull – +1.012s
6. Esteban Ocon – Renault – +1.144s
7. Carlos Sainz Jr. – McLaren – +1.186s
8. Sergio Perez – Racing Point – +1.280s
9. Lance Stroll – Racing Point – +1.351s
10. Lando Norris – McLaren – +1.405s
11. Daniil Kvyat – AlphaTauri – +1.478s
12. Pierre Gasly – AlphaTauri – +1.493s
13. Charles Leclerc – Scuderia Ferrari – +1.744s
14. Sebastian Vettel – Scuderia Ferrari – +2.009s
15. George Russell – Williams – +2.216s
16. Kimi Raikkonen – Alfa Romeo Racing – +2.491s
17. Romain Grosjean – Haas – +2.586s
18. Antonio Giovinazzi – Alfa Romeo Racing – +2.698s
19. Nicholas Latifi – Williams – +2.886s
20. Kevin Magnussen – Haas – +3.062s
Updated
at 8.24am EDT
Preamble
How has it got this bad for Ferrari? Sebastian Vettel is 11th in the title standings, 116 points behind the championship leader, Lewis Hamilton, after only six races. Charles Leclerc has not fared much better, the lack of power rendering their drivers unable to compete for victories all season, and only just staving off humiliation in qualifying at Spa.
The Ferraris have performed terribly since they arrived in Belgium, hitting rock bottom on Saturday morning when Vettel finished last in final practice. Eventually Leclerc and Vettel qualified 13th and 14th for today's race, at a track where they locked out the front row last season. "There is not much more I can do," said Leclerc after his final lap, swearing over the radio. Vettel's disillusionment was just as palpable. "It is the true picture of what the car can do around here," he said. "We tried everything."
Meanwhile Lewis Hamilton's dominance shows no signs of abating. His sadness at the death of Chadwick Boseman – and his desire to pay tribute to the actor he calls "the first black superhero" – seemingly driving the British driver to new heights. He broke the track record twice in qualifying, taking pole with a lap half a second quicker than his nearest rival, Mercedes teammate Valtteri Bottas. Can anyone stop Hamilton winning his 89th race to move within two of Michael Schumacher's record total? Stay with me to find out.
Lights out: 2.10pm BST