Once a dashing young senator, now a lion in winter, Joe Biden walked up the presidential lectern he could finally call his own after half a century of striving.
The message that the 46th US president wanted to send a pained nation was the one that has defined his own life in the face of incalculable personal and political loss: resilience.
"We will press forward with speed and urgency, for we have much to do in this winter of peril and possibility," Biden told the audience at the US Capitol in Washington on Wednesday, as the sun finally broke through clouds that had brought fleeting snow. "Much to repair. Much to restore. Much to heal. Much to build. And much to gain."
That winter of peril includes a raging pandemic that has killed more than 400,000 Americans and a fraying body politic: two weeks after a mob encouraged by Donald Trump sacked the Capitol, this could no longer be described as a peaceful transfer of power.
Now it is Biden's great misfortune to have realised, at 78 years old, a lifetime ambition at a moment of what he called "the cascading crises of our era". It is also his good fortune to have no alternative but to think big and aim high. The quintessentially moderate, middle-of-the-road candidate might go down as radical and transformational because that is what the moment demands:
Australia marks four days with no new cases
A decision on approving the Pfizer vaccine for use against Covid in Australia is imminent with the recommendations of the independent Advisory Committee on Vaccines now in the hands of the drugs regulator.
The chair of the committee, Prof Allen Cheng, said it had finished reviewing the vaccine data for the Therapeutic Goods Administration (TGA) after holding a meeting about the vaccine on Friday.
"We just give the TGA the advice, it's really up to them now," he said. "But I'm sure it's going to be pretty soon."
Guardian Australia spoke to Cheng about what the committee does, how it assessed the Pfizer vaccine and other vaccine candidates, and what the committee has learned so far from countries already rolling out vaccines:
China reports 144 new cases
In the Pacific, Papua New Guinea is battling continued outbreaks of Covid-19 across its archipelago.
The country has currently recorded 843 cases, with eight new case overnight in West New Britain and the capital Port Moresby. The actual rate of infection is like far higher, with limited testing outside of the capital.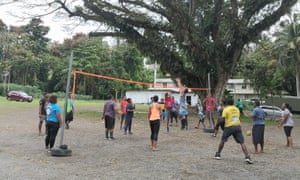 At the same time, Fiji, which has kept Covid-19 infections low throughout the pandemic – just 55 confirmed cases – is battling typhoid outbreaks following Category 5 cyclone Yasa tearing through the north of the country last month.
The country now has 13 cases of typhoid, and the health ministry's efforts to combat is leptospirosis, typhoid, dengue and diarrhoea are being hampered by damage to water supplies and to sewage systems.
Joe Biden signs executive orders on pandemic
Joe Biden has marked the start of his presidency by signing a flurry of executive orders on a suite of issues, including Covid-19, the environment, immigration and ethics.
Some of the executive actions undo significant actions from Donald Trump's administration, including halting the travel ban from Muslim-majority countries, and ending the declaration of a national emergency used to justify funding construction of a wall on the US-Mexico border.
He also signed an order allowing the United States to rejoin the Paris climate agreement and end the Trump administration's efforts to exclude undocumented immigrants from the census data used to determine how many seats in Congress each state gets.
The president also moved quickly to address Covid-19, signing orders to mandate mask wearing and social distancing in federal buildings and lands and to create a position of a Covid-19 response coordinator:
Covid cases may have stopped falling, major English survey shows
Cases of coronavirus may no longer be falling across England, according to a major survey that raises concerns over whether lockdown measures can contain the new variant, as the UK reported a record daily number of deaths.
Boris Johnson described the 1,820 deaths reported on Wednesday as "appalling", as he warned: "There will be more to come."
Scientists at Imperial College London analysed swab tests from more than 142,000 people across England between 6 and 15 January which suggested that new infections may have fallen recently but were now stable, and perhaps even growing slightly, with only south-west England showing clear evidence of a decline:
New US CDC director sworn in
Don't panic, you'll get vaccine, says WHO