China's economy grew last year at its slowest pace since transformative market reforms of the 1970s, according to an AFP poll of economists, but finished the year strongly on an accelerating coronavirus recovery.
The average forecast of analysts from 13 financial institutions was a 2.0% expansion for the world's second-largest economy, down sharply from 6.1% in 2019, itself a three-decade low.
China, where the Covid-19 pandemic broke out, was also the first country to emerge from its grip. It is expected to be the only major world economy to post positive 2020 growth.
Last year was a roller-coaster one for the country, with an unprecedented contraction in the first quarter caused by pandemic-related lockdowns quickly followed by a rebound as business and consumption returned.
The comeback gained pace through the fourth quarter, the analysts said, with encouraging data on consumer spending, factory activity and exports.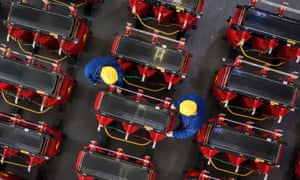 The poll produced an average forecast of around 6.3% growth for the final quarter of 2020, putting China back on its pre-pandemic growth trajectory.
"We expect a further pick-up in Q4 GDP growth, driven by strong exports, robust investment growth and a recovery in household consumption," said Tommy Wu, lead economist with Oxford Economics.
In the latest positive sign, exports jumped 18% in December and were up 3.6% for the full year, according to figures released Thursday.
Official GDP growth figures are due for release on Monday.
The analysts' expectations exceed the International Monetary Fund's forecast of Chinese full-year 2020 growth at 1.9%.
Either figure would be the worst performance since 1976, when the economy shrank by 1.6%.
Two years after that, former leader Deng Xiaoping set in motion a shift away from communist-style central planning, turning China into an industrial, trade and tech powerhouse.