Global cases exceed 17.2m
China has recorded its highest daily total of new Covid-19 cases since early March, the vast majority of them in the northwestern region of Xinjiang.
On Thursday health authorities confirmed 127 new cases, including four imported and 123 local transmissions. There were 112 in Xinjiang and 11 were in the province of Liaoning.
Separately authorities also reported 11 new asymptomatic cases.
China is reporting daily rises in cases, with 105 reported on Wednesday, 101 on Tuesday, and 68 on Monday.
The major outbreak is in Xinjiang, where strict anti-virus measures have been in place in the capital Urumqi for over a week, including the suspension of most public transport and flights, and controls on the entry and exit of people at housing compounds in some districts.
However experts have sounded the alarm over the risk to people detained in China's secretive re-education camps. Clusters of infections have been recorded in the capital, Urumqi, and the city of Kashgar about 300km away, and there are fears that the community transmission could see the virus enter the camps by infected employees.
The Liaoning outbreak is centred on the capital city, Dalian, but has spread to other cities and provinces in recent days. State media reported more than 17,500 medics had been mobilised to run almost 2,700 testing sites across the city. By midnight Tuesday about 3.53m samples had been collected, CCTV reported.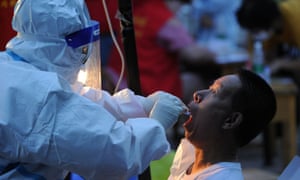 Vietnam reports 45 new cases in Danang
Updated
at 11.01pm EDT
Philippines extends Manila restrictions
Brazil's Bolsonaro on antibiotics for infection
Mexico's official death toll rises to 46,000
Japan does not need to reimpose state of emergency – government